"Legacy"
A Creation of Love from Maine

Reprinted with permission from Latitudes and Attitudes magazine, May/June 1997.
Every time we sailed our Robinhood 36 into a Lake Ontario port during the summer of 1996, the first full summer that she was ours, a crowd gathered around and the conversation always went like this: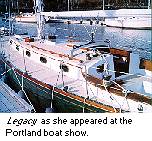 "It's a beautiful boat - what is it? "She's a Robinhood 36." " Oh! silence - then ... "Who builds them - where did you get her?" "She's really a Carl Alberg designed Cape Dory but is now called the Robinhood 36; the Cape Dory builders, using Cape Dory molds, are now building these boats in Robinhood, Maine, hence the new name." "I knew it was a Cape Dory - see, I told you, those lines are just like all the Cape Dorys." "Would you like to come aboard?" "Would I ever!" "Wow - this is a real boat!"
This repartee occurred even with the owners of the racing machines; but, of course, with greater admiration and affection from the traditionalists.
How we bought "Legacy". hull #1 of the Robinhood 36, was an adventure - one we think about often.
After a drunk driver killed our daughters Jill, 23, and Janet, 20, when they were on their way home for Thanksgiving from Princeton, New Jersey, finding a new life without them was filled with many, many misfires.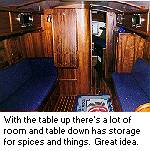 It came to us that if we were to live in Upstate New York we should do whatever it had to offer - the Great Lakes - and I bought our first boat - a Cape Dory Typhoon. The challenge began and it was clear to both of us that learning to sail was going to keep us very busy, and as time went on, very happy.
From the Typhoon, we went to a used Cape Dory 28 and then to Cape Dory 30. Even though we weren't terribly sea savvy, we knew that a full keel, which was part of the hull (no keel bolts) with a protected prop, was for us; and, for me, the traditional lines with opening brass ports and all that teak. I didn't want a cottage - just a real boat.
As we were ready to buy the ultimate and last boat - a used Cape Dory 36, the luxury tax did a number on all the boatyards in the Northeast, closing down most of them.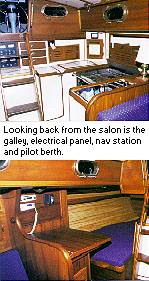 Finding a used Cape Dory 36 was almost-impossible. Everyone seemed to be looking for one. And, then one day Dave Perry of Robinhood called, me. I remember his words exactly. "Fran, how would you like a new 36 - we have the molds for the 36, 40 and 45 and we are going to start building again, starting with the 36, which has always been the flagship for the Cape Dory fleet."
"In your dreams - a new boat, not us - never could afford it." "Well, come and see us and we'll talk." "We talked and then I talked and talked about it to husband Alan - could we possibly afford it?"
Well, not really, but then she's not named "Legacy" for nothing. We inherited enough to make it all possible and every day I thank our boat's benefactor. She's a beautiful boat and when the snow is whirling around our house, I start counting the days until we are back on board, polishing brass and cleaning the teak - not a chore for me.
But ask Dave Perry, always the gentleman and low-key salesman, "We weren't an easy sell." In fact, after we made the deposit, Alan changed his mind over some detail that I can't even remember. But, I had to call Perry and tell him, the deal was off. Again, I remember his words, "Never mind Fran, it's all right. We are going to awl-grip her blue and take her to the Portland Boat Show where I know she will sell quickly. Her brass is still shiny and she looks beautiful." "What, paint my boat blue?" Quick call to Alan who said, "Blue, wow. Call them back and I'll write another check tonight."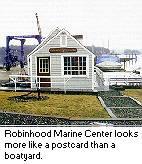 The affection and loyalty that Cape Dory owners have for Andy Vavolotis and his crew of 20 to 25 is evident from all who have bought boats from them, used and new. No one is exactly sure why, but possibly might be because everyone at Robinhood loves boats and, seeing their customers love them, too, is a reward far more exciting than even the profit. Vavolotis built his first boat when he was 12 years old. It was made from crates and boxes, a sheet and green paint. "It was waterproof," Vavolotis said. "A great boat." In the early years, he worked for Boston Whaler for a short time and then small built Cape Dorys in his garage by day and delivered them to dealers at night. Then, the business grew until he had a shop of 300 employees, forcing him out of the shop and into an administrative position, "It wasn't fun," he said. "When we closed the doors, I was almost relieved."
Today, he is a happy man, back in the shop and on the drawing board, tracking the latest Robinhood 36, a 40-footer.

"This customer saw our Robinhood 36 at the Annapolis Boat Show and signed on for the 40 with Dick Scuito, one of our two salesman who has spent the last 30 years selling traditional boats. He is a diver and needed a boat with a full keel and moderate draft (5'8") to get in and around the Bahamas and the Caribbean. This boat will have air conditioning, an auxiliary generator, room for the diving equipment and storage tanks, two heads and full aft cabin. We put the 51hp Yanmar diesel in the center of the boat to make room for all the other diving gear. It's a beauty and will be ready sometime in August."
The best part of being at Robinhood, Vavolotis says is, it's the first time he has built boats on the water. "We were inland in Taunton," he said. "Here, when the cove pipes up in the afternoon, I can take off and sail my heart out. And, I can take off because Joe is the general manager - not I."
"He's a great person to work for," Perry says. "He'll give you anything you want as long as it requires lumber. He loves to build - anything. He even built a three bay dog kennel for those of us who like to bring our dogs to work."
For prospective boat owners, it's fun to hear about the advantages of the full keel. The litany goes like this: Some like to think the full keel will make the boat too slow. This may have been true of the Colin Archer design with a plum stem and a keel that ran the full length of the boat making it like a lifeboat with a straight up and down bow. Not so with the Robinhood with its cutaway forefoot and the angle of the rudder attachment. She retains directional stability while going to windward easily and coming about quickly. If you don't believe it, he says, just put a racing genoa on her and watch her fly.
In Maine, cruisers 'get a piece of the rock' at one time or another - just a matter of time and they are also sure to get tangled up in the lobster pot lines sooner or later. But with the Robinhood cutaway full keel, which is molded with the hull not an, add-on with keel bolts, neither is a problem. Our boats just ease up on the rocks without hitting them full tilt and the lobster pot lines just slide off. The rudder is attached to the keel and the prop is protected.
Why is Robinhood unique? You would probably say that Maine had provided them with a great pool of craftsmen, a boatyard operations manager, Gordon Reed, who says customer service, is all that counts and that he loses customers only when they die, low-key salesmen, both of whom are sailors, and, of course, Wendy Reed who knows all and sees all from her desk at the entrance to the office.
"Andy's philosophy is that if you build a good boat, people will find you."
Robinhood 36 Technical Information
BUILDER: Robinhood Yachts
FUEL TYPE: diesel
LOCATION: Robinhood, Maine
FUEL CAPACITY: 43 gallons
YEAR: 1995
TANK MATERIAL: aluminum
STYLE: Cutter
WATER CAPACITY: 90 gallons
DESIGNER: Carl Alberg
TANK MATERIAL: polypropylene 2/115
HULL MATERIAL: Fiberglass
ELECTRONICS: standard package
LOD: 36 feet, 1 1/2 inches
LWL: 27 feet
BEAM: 10 feet 8 inches
DRAFT: 5 feet
DISPLACEMENT: 16,100 lbs.
BALLAST: 6,050 lbs.
KEEL TYPE: full
SPARS: aluminum by Hall
PAINT: gel coat
Copyright 1997 FTW Publishing, Inc.; all rights reserved. Latitudes and Attitudes magazine is published six times a year by:
FTW Publishing, Inc.
Box 666
Redondo Beach, CA 90277
(310) 798-3445
FTWp@aol.com