Specifications: Cape Dory 27
Disclaimer: The CDSOA is a private voluntary social club. The CDSOA and this Web site are not associated with and do not represent Cape Dory Yachts, which is a division of Newport Shipyards Corp., nor any other yacht builder.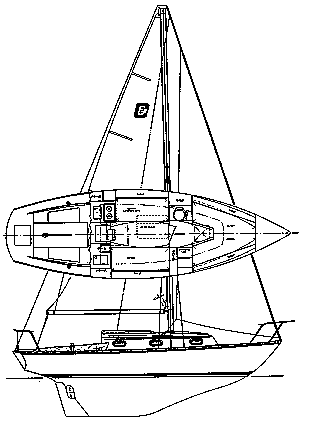 Specifications

| | |
| --- | --- |
| L.O.A.: | 27' 1" |
| L.W.L.: | 20' 0" |
| Beam: | 8' 6" |
| Draft: | 4' 0" |
| Displacement: | 7500 lbs. |
| Ballast: | 3000 lbs |
| Sail Area: | 365 sq. ft. |
| Mast Height: | 38 1/2' |
| Designer: | Carl Alberg |
| Years Built | 1976 - 1984 |
| Nr. Built | 277 |
The Cape Dory 27 is a diesel-powered auxiliary sloop capable of sailing most anywhere. She is a rugged yacht with surprising speed and predictable handling. The 27 is an uncomplicated yacht universally admired by knowledgeable sailors.
She is an ideal cruiser with standing headroom, a complete aft galley - where ventilation is best - and where the cook can be part of the action in the cockpit. Privacy is provided by two separate cabins. In her main cabin, the bulkhead-mounted table swings up and out of the way when not in use.
She is a standout with generous use of teak trim on deck. Below deck, teak and other hardwoods are abundant and provide a warm, comfortable appearance. Her teak and holly cabin sole (floor) and lightning ground system are standard. Since there are many other standard features be sure to get the Cape Dory catalogue for complete listings.
The Cape Dory 27 ... what an exciting way to sail!

Haven't see a Cape Dory 27? Check out the Cape Dory Owners' Websites for owners' comments, photos and sailing yarns. Be sure to download the following documents relating to your Cape Dory:
Additional information:
Bob Padlowski writes: I own a Cape Dory 27, hull number 47. She was built in 1977. A few differences between the specs you published and the 1977 boats: the sole is mostly fiberglass, with a small teak panel for access to the bilge; the salon table is fixed to the sole and does not fold up; and there is no door between the head and V-berth. I am not sure when these changes were made, but I once saw a 1978 vintage boat. It had the folding table and extra door.
Page last updated Nov. 2, 2000. Text and specifications based on a Cape Dory brochure dated 10/30/80, probably for the 1981 model year. Additional information is always welcome. Email webmaster@capedory.org.