Specifications: Cape Dory 30
Disclaimer: The CDSOA is a private voluntary social club. The CDSOA and this Web site are not associated with and do not represent Cape Dory Yachts, which is a division of Newport Shipyards Corp., nor any other yacht builder.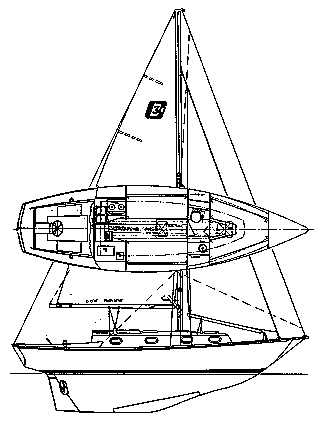 Specifications

| | |
| --- | --- |
| L.O.A.: | 30' 2 1/2" |
| L.W.L.: | 22' 10" |
| Beam: | 9' 0" |
| Draft: | 4' 2" |
| Displacement: | 10,000 lbs. |
| Ballast: | 4000 lbs |
| Sail Area: | 437 sq. ft. |
| Ketch Mast Height: | 38 1/2' |
| Cutter Mast Height: | 40 1/2' |
| Designer: | Carl Alberg |
| Years Built | 1976 - 1986 |
| Nr. Built | 363 |
The Cape Dory 30 is available as either Cutter or Ketch. On the Cutter the mast is stepped further aft than on the Ketch, and a yankee jib with a self tending staysail complete her foretriangle. The Ketch uses the club jib with a well proportioned mizzen to balance her sailplan.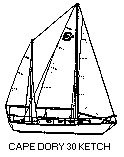 Edson wheel steering is standard on both models, with tiller steering available on the Cutter only. The list of other standard equipment is extensive. In addition to sails, eight bronze opening ports, diesel auxiliary, lifelines and pulpits, and much more, there are two translucent opening hatches to add light and important ventilation on a hot summer day.
The 30 was designed by Carl Alberg to meet the needs of the serious cruiser: there are berths for five, including a double, in the two cabins. The head is accessible behind closed doors from either cabin, and there is ample locker and storage space throughout. Her galley was recently re-designed to include more storage areas and more efficient use of space: a two burner gimbaled stove with oven is standard as is the large top-loading ice box And don't forget the warmth of wood that Cape Dory builds into every one of its yachts. The 30 is no exception; from top to bottom, you'll see plenty of evidence of Cape Dory craftsmanship.
Haven't see a Cape Dory 30? Check out the Cape Dory Owners' Websites for owners' comments, photos and sailing yarns. See also this Good Old Boat article on the CD 30 featuring DeLaMer. Be sure to download the following documents relating to your Cape Dory:
Text and specifications based on a Cape Dory brochure dated 10/30/80, probably for the 1981 model year. Additional information is always welcome. Email webmaster@capedory.org.