January 25: Northeast Fleet Winter Meeting
The Northeast Fleet's Winter Meeting took place on Saturday, January 25, 2003 at Unk's on the Bay, Waterford, CT. 53 Northeast Cape Dorians were in attendance. Michael Heintz of Norwalk, CT, was elected to a 2nd term as Fleet Captain and Warren Kaplan of Merrick, NY, was elected Fleet Secretary. Bob Emmons of Wrightstown, NJ, was appointed Fleet Lieutenant and is this year's Cruise Director. Click Here to view the Minutes of the Meeting.
Waterford, CT
Unk's on the Bay
361 Rope Ferry Rd.
Waterford, CT 06385
860-443-2717
Agenda
10:00-11:00 a.m.: Gam session
11:00 a.m.: Commence Northeast Fleet Winter Meeting
12:30 p.m.: Lunch
2:00 p.m.: Committee Meetings
Lunch
$15.75 per person (including a bottomless pot of coffee during the meeting.)

Menu
Appetizer: New England Clam Chowder (pronounced 'Chow-DA')
Choice of:
Roast Sliced Top Round
or
Chicken Dijonnaise
or
Fresh Baked Cod
With Baby Carrots, Baked Potato, French Rolls, Chocolate Mousse, Coffee & Tea.
Please RSVP by 5 Jan 2002.
Send check ($15.75 per person) and main course choice(s) to:
Leo MacDonald
332 S. Burnham Hwy
Lisbon, CT 06351
Download the Reservation Form (available in Microsoft Word and PDF formats) and mail it today! Call a friend to encourage her (or him) to come. And send an e-mail to the Event Organizer that your reservation is in the mail.)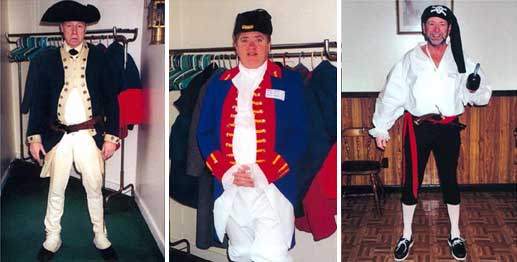 2002 Winter Meeting
Attending Pirates Leo MacDonald, Fleet Captain Michael Heintz and Traditions Officer Dave Stump.