Specifications: Cape Dory Typhoon
Disclaimer: The CDSOA is a private voluntary social club. The CDSOA and this Web site are not associated with and do not represent Cape Dory Yachts, which is a division of Newport Shipyards Corp., nor any other yacht builder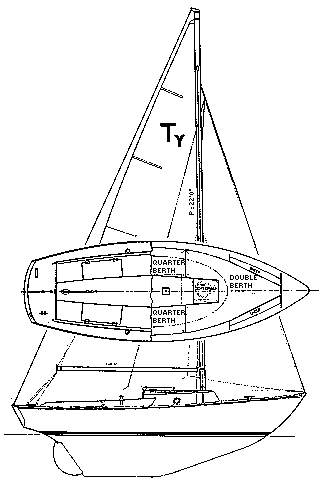 Specifications
Weekender
Daysailer
L.O.A.:
18' 6"
L.W.L.:
13' 11"
13' 6"
Beam:
6' 3"
6' 3 1/2"
Draft:
2" 7"
Displacement:
2000 lbs.
1900 lbs
Ballast:
900 lbs.
Sail Area:
155 sq. ft.
157 sq. ft
Mast Height:
28'
27' 7"
Designer:
Carl Alberg
Weekender Years Built
1967 - 1986
Weekender Nr. Built
1982
Daysailer Years Built:
1977 - 1986
Daysailer Nr. Built:
141 (numbers include both the Open and Cuddy models)
The Cape Dory Typhoon, "America's littlest Yacht", is one of the most popular sailboats ever built. There are more than 2,000 sailing from mountain lakes in the Rockies to the blue waters of the Atlantic, Pacific, and Carribean.

The Typhoon is a joy to sail for beginner and expert alike. Carl Alberg designed her that way. The Typhoon's "full keel", with 900 Ibs. of molded-in ballast gives the Typhoon the feel of a larger boat, with the steadiness and stability not found in many larger designs.
The Daysailer features a deep, roomy cockpit with teak seats. You sit in her, not on her. There's ample dry storage space in a forepeak locker. The Typhoon Daysailer is the perfect boat tor learning the fundamentals ... she does what you want, smoothly and predictably.
The Cape Dory Typhoon Daysailer, an honest uncomplicated craft to provide you with countless hours of sailing pleasure.
The Weekender has the same "full keel" as the Daysailer. Carl Alberg designed her with moderate displacement and ample ballast for exceptional stability under sail. Her huge, comfortable 6 foot cockpit is self-bailing. Roller reefing and internal halyards leading to the cockpit combine for easy handling whether sailing with a crew or single-handed.
Below decks, the cuddy cabin contains forward V-berths, 2 quarter berths, and an area for an optional marine head and portable ice chest and stove, plus a surprising amount of storage space. She's a great boat for overnighting and weekend cruising.
The Cape Dory Typhoon Weekender's generous exterior teak coamings and trim radiate a warmth and beauty typical to all the Cape Dory yachts.
NOTE (received via e-mail): "...There are actually three models of Typhoons: the Weekender and TWO types of daysailers. One daysailer is completely open, the other (in profile) looks like a weekender without the portlight (it has an open cuddy).

In the identification number, the Weekender has a "D" after the "CPD"; the fully open model has a "G" and the model with an open cuddy has a "K"...."

Haven't see a Typhoon? Check out the Cape Dory Owners' Websites for owners' comments, photos and sailing yarns. Here's a photo of the Typhoon Daysailer with Cuddy and three of the Open Daysailer, the first looking at the bow and the second looking at the stern of the same vessel. Here's a photo of another but older Open Daysailer. Note the differences between it and the newer Open Ty in the previous two photos.
Be sure to download the following documents relating to your Typhoon.
Text based on Cape Dory brochures for the 1981 and 1982 model years. Specifications from brochure and an owner's manual, year unknown. Additional information is always welcome. Email webmaster@capedory.org.